History of Bernal Street Names
by Lynn Ludlow
Anderson Street
In a nation with many an Anderson, the most likely nominee for Bernal honors is Brig. Gen. Robert Anderson (1805-1871), whose father, Col. Robert Anderson, had been a hero in the battle of Cowpens in the Revolutionary War. The son, a major of artillery, commanded at Fort Sumter in Charleston Harbor when it was shelled by the Confederates in the opening salvos of the Civil War. He was forced to surrender and lower the U.S. flag. Four years later, after more than half a million combat deaths on both sides, he returned to preside as the same flag was raised over the fort's ruins.
Brigadier General Anderson
Appleton Avenue
So short a street, it may have been given the middle name of Gen. Nelson Appleton Miles (1839-1925), the Civil War hero and Indian wars veteran who was commander at the Presidio in 1888-1890.
Banks Street
Not named for financial institutions. Nathaniel P. (for Prentiss) Banks (1816-1894), who as an impoverished lad was a bobbin boy in the cotton mills, had been elected as state legislator, member of Congress and, shortly before the Civil War, governor of Massachusetts. Despite his lack of military training, he won a political appointment as a major general of volunteers and, in pictures at least, resembled a fierce warrior. In later commands, he was defeated by Confederate General Stonewall Jackson in the Shenandoah Valley and again at Cedar Mountain. The rest of his military career was equally undistinguished. After the war, he served again in Congress and the State Senate.
Governor Banks
Chapman Street
Attorney, assistant clerk in the Indiana legislature and publisher of the Indiana Republican (in Terre Haute and Indianapolis), George H. Chapman (1832-1882) had been a Navy midshipman during he Mexican-American War. With the outbreak of the Civil War, he was appointed a major in the 3rd Indiana Cavalry in October 1861. By the war's end, when he was a brigadier general, he had served in the battles of Second Bull Run, Antietam and Gettysburg, and in the Mine Run, Overland and Shenandoah campaigns. He was wounded in the battle of Third Winchester. After the war, he was a judge and state senator in Indiana.
George Chapman
Ellsworth Street
Fascinated by military history and panoply, Colonel Elmer Ephraim Ellsworth (1837-1861) was a friend of Lincoln's. He raised a regiment of volunteers from New York firefighters, who invaded Virginia the day after it seceded. When he cut down a Confederate flag atop a hotel, the owner killed him with a shotgun blast and was shot dead in return. "Remember Ellsworth" became a rallying cry of a regiment known as the Ellsworth Avengers.
Colonel Ellsworth
Gates Street
Born in England, Horatio Gates (1727-1806) began his military career as an officer in the British Army in the French and Indian War. Severely wounded at Fort Duquesne and retiring with the rank of major, he was living in Virginia when he sided with the rebels and his friend George Washington in the American Revolution. He was a major general when his ragged force defeated his former comrades at Ticonderoga and Saratoga in 1777, prompting the redcoats and their commander, Gen. John Burgoyne, to surrender. It was a turning point in the war, but Gates gets little attention in schoolbook histories.
Montcalm Avenue
A professional soldier, Louis-Joseph de Montcalm-Grozon (1712-1759) was a major general commanding the forces of New France in North America at the outset of the Seven Years' War. He was promoted to the rank of lieutenant general after his capture of Fort Oswego and Fort William Henry and his defense of Fort Ticonderoga. But in 1759, Montcalm was defending Quebec when the James Wolfe, the British commander with a much bigger army, scaled cliffs to the Plains of Abraham. He defeated the French in a decisive battle that took the lives of both commanders and left New France as Canada, a British colony.

Major de Montcalm-Grozon
Moultrie Street
Although William Moultrie (1730-1805) led troops against Native Americans in 1761 and won election to the colonial assembly, the general is remembered chiefly for his surprising defense of a South Carolina fort (now Fort Moultrie) on Sullivan's Island. It blocked the British in 1776 from capturing Charleston, his birthplace. Captured in 1780 and released after the war, he was elected governor of South Carolina in 1785. (The 1870 map shows it as Moultry Street.)

William Moultrie
Mullen Avenue
Originally Wolfe Avenue, it was renamed (probably) for Patrick Mullin (1844-1897), a Navy boatswain's mate and native of Ireland. He won the Medal of Honor twice in 1865 for heroism in battle on a Virginia stream and for rescuing a drowning officer off the Virginia coast. The Navy's citations after the Civil War ignored the correct spelling of his surname.
Prentiss Street
It's possible that this steep, narrow street memorializes the middle name of Nathaniel Banks (see Banks Street, above, which parallels Prentiss Street one block to the west). But that would ignore the accomplishments of another general, Benjamin Mayberry Prentiss (1819-1901), a veteran of the Mexican-American War who was lionized in the Civil War as "Hero of the Hornet's Nest" after the battle of Shiloh. He held off the rebel attackers until U.S. Grant's forces could move safely to the south, but by then Prentiss and 2,200 bluecoats were encircled and captured.

General Prentiss
Putnam Street
A veteran of Rogers Rangers in the French and Indian War, Major General Israel Putnam (1718-1790) was involved in numerous battles in the early years of the Revolutionary War. But the former tavern keeper and farmer from Connecticut is remembered mainly for telling his troops in 1775 at the Battle of Bunker Hill: "Don't shoot until you see the whites of their eyes."
General Putnam
Ripley Street
The street was originally Prospect Place, a name changed in 1882 because of confusion with nearby Prospect Avenue. The honoree is probably Eleazar Wheelock Ripley (1782-1839), a U.S. brigadier general in the battle at Lundy's Lane and the siege of Fort Erie in the War of 1812. Ripley was later a Louisiana legislator. In 1816 the Ohio river port village of Staunton was renamed Ripley in his honor, believe it or not.
Stoneman Street
A West Pointer who came to San Francisco in 1846 as a lieutenant in the Mormon Battalion, George Stoneman (1822-1894) was a career military commander with an uneven record in numerous Civil War campaigns. A major general, he freed the prisoners at Andersonville and led cavalry raids into the Confederacy. After leaving the Army, he settled in the San Gabriel Valley and was elected California governor, 1883-87. Camp Stoneman, a 2,500-acre Army base opened in 1942 near Pittsburg in Contra Costa County, was the jumping off place for more than a million troops headed for the Pacific Theater in World War II. It was later the separation center for soldiers returning from the Korean Conflict. The base was shut down in 1954. The cavalryman's name was remembered in a different context when the Band, in a 1970 song by Robbie Robertson, included this couplet: Virgil Caine is the name, and I served on the Danville train/Till Stoneman's cavalry came and tore up the tracks again.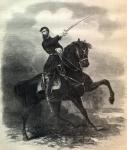 George Stoneman
Tompkins Avenue
He wasn't a general. The street (renamed in 1909 from Union Avenue) probably honors Dr. Hartwell Carver Tompkins (1828-1903). Surgeon-in-Chief of the Army of the Potomac's First Division, Second Army Corps, he stood "knee deep in amputated limbs" at Antietam. He had served also in the battles of Fair Oaks, Fredericksburg, the Wilderness, Cold Harbor, Petersburg, and Appomattox before returning to civilian life in Knowlesville in upstate New York. Other candidate: Patrick W. Tompkins, former congressman from Mississippi who joined the gold rush to California in 1849 and died in San Francisco in 1853.

Dr. Tompkins
Winfield Street
Few given names are honored in the street nomenclature world, but Scott Street (across the northerly reaches of San Francisco) and Scott Street (in the Presidio) must not have seemed sufficient glory for admirers of Winfield Scott (1786-1866), pomp-loving hero of the War of 1812, the Blackhawk War, and the Mexican-American War. At the beginning of the Civil War, "Old Fuss and Feathers" was the first lieutenant general since George Washington but, because he was overweight and gout-afflicted, he couldn't ride a horse. Forced to resign in late 1861, the 75-year-old general lived long enough to see his long-term "Anaconda" plan -- derided by his successor, George McClellan -- would eventually become the Union's ruthless, war-ending strategy.
Wool Street
A lawyer when the War of 1812 began, John Ellis Wool (1784-1869) organized a volunteer force, fought in several battles, and wound up a colonel. He organized more volunteer regiments for the Mexican-American War, when he became a major general. In 1854, he commanded the Department of the Pacific where, because he was intolerant of territorial bureaucrats, he tried and generally failed to stop massacres of Indians and other depredations by civilian volunteers and settlers. Transferred to New York during the Civil War, he retired in 1863, age 75.
Wright Street
Despite a well-documented reputation for fair dealing with Indians as they fought to retain their homelands, West Pointer George E. Wright (1803-1865) spent most of his career in conflict or in negotiations with Pawnees, Seminoles, Yakimas, and the politicians who sided with land-hungry settlers in Washington and Oregon. Although a brigadier general with the outbreak of the Civil War, he was kept in California as commander of the Presidio in San Francisco and, later, of the District of California. When he was ordered back to the Pacific Northwest in 1865, the Brother Jonathan steamship hit a reef and foundered. Among the drowned were General Wright and his wife.
George Wright
Bernal Heights historian Jerry Schimmel contributed to this piece. Retired newspaperman Lynn Ludlow, a resident of Bernal Heights, was a reluctant Army draftee during the Korean Conflict. He developed a critical perspective toward generals while somehow attaining the rank of Private E-2. E-mail him with your comments on possible errors, omissions, and opportunities for additional research.