About Bernal Heights and the Bernal History Project
The San Francisco neighborhood of Bernal Heights is a diverse community on a hill, bounded by Mission Street to the west, Cesar Chavez Street to the north, Bayshore and Highway 280 to the east, and Crescent Avenue to the south. In 1839, Jose Cornelio Bernal received a land grant from the Mexican government, the Rancho Rincon de las Salinas y Potrero Viejo, that made up 20 percent of modern-day San Francisco. It is from him that Bernal Heights gets its name. He built his family home at what is now the site of St. Luke's Hospital.
In the second half of the 19th century, Bernal Heights was largely rural cow pasture, farmed by Swedish, German, and Irish immigrants. The arrival of the railroad and a horsecar line along the old Mission Road in the 1860s linked Bernal to the rest of the city, and it began to grow. While a November 1894 story in the San Francisco Chronicle described Bernal Heights as "this paradise of the agile goat and the speckled hen," tanners and brewers thrived along Army Street and Islais Creek, while Mission Street was already bustling with activity. St. Mary's College was built on the edge of Bernal in 1863, while Hubert Howe Bancroft moved his library to Valencia and Army streets in the 1880s (although both later relocated to the East Bay).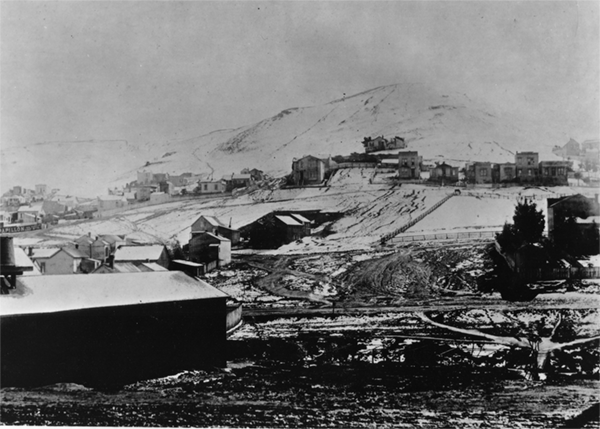 Bernal Heights' north slope after snow in 1882
After the 1906 earthquake and fire, Bernal Heights grew dramatically in size as city residents flocked to its open hillsides, cheap land, and solid bedrock. More than 600 houses were built in Bernal in the year after the disaster. After that, Bernal continued to expand along with the rest of the city, and is now home to more than 22,000 residents.
The Bernal History Project was founded in 2003 as Bernal Heights Preservation, and changed its name in 2006. It has been working to record and survey the neighborhood through city directories, contributions from neighbors past and present. Bernal has Victorians, small cottages, and contemporary homes. Many of the older buildings are at risk of demolition for development; it is important to survey the neighborhood and identify those that are of historic interest, whether they be homes, businesses, or public buildings. Bernal History Project celebrates every building in Bernal, large and small.
The history of Bernal's street names, by Lynn Ludlow.
The Generals of Bernal Hill: Lynn Ludlow looks at the military origins of many Bernal street names.