Bernal History Project
Bernal Heights is a hilltop village, tucked away in the southern part of San Francisco. Freeways and urban thoroughfares now bound a neighborhood once defined by the swamps and creeks of the original Mexican land grant. From the 1860s legend of Widow O'Brien's cow to the current fight over the preservation of the branch library's murals, residents have tirelessly guarded and recorded their environment. Bernal is diverse, vibrant, and still evolving.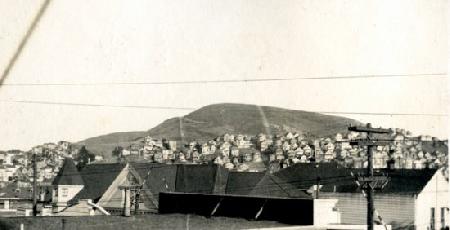 This site aims to provide a solid basis in researching the neighborhood. Browse the links, subscribe to our newsletter, and contact us if you want to know more about anything Bernal-related not shown here.
Upcoming Events
Apr 19, 2017 7:00pm-8:30pm (Wednesday) at Bernal Heights Branch Library
OpenSFHistory: 1906 Earthquake Shacks


OpenSFHistory is a project by the nonprofit Western Neighborhoods Project (WNP) to scan, and make available to the public, a collection of more than 100,000 historical images of San Francisco. More Info...
Historic Bernal News
Bernal Heights Residents Are Awarded Health Center

July 1, 1920 San Francisco Chronicle


Branch Library for Public Schools Is Now Declared Aim of the Committee

The first definite result of the new community organization movement of Bernal Heights was gained yesterday when Dr. William Hassler, head of the San Francisco Health Department, consented to the immediate establishment of a new health center at Bernal Heights. This health center was the first thing for which residents of Bernal Heights asked for when they established three months ago the first Community Municipal Council in the State of California. Establishment of this council marked the beginning of the State-wide movement for community organization, launched under the auspices of the Commission for Immigration and Housing.

This movement is designed to bring about a new attitude in social work. It is the purpose of the organization to consider and meet the needs of the neighborhood.

Bernal Community Council is now working for the establishment of a branch library in the Bernal school.

The City Committee, which stands ready to assist this and future councils in San Francisco, is headed by Mrs. Mary E. FitzGerald, chairman; Ernest J. Hopkins, secretary of the Immigration Committee; Dr. William C. Hassler, head of San Francisco Health Department; Eustace M. Peixotto of Community Service Recreation League, and includes heads of most of the philanthropic organizations in the city.