Bernal History Project
Bernal Heights is a hilltop village, tucked away in the southern part of San Francisco. Freeways and urban thoroughfares now bound a neighborhood once defined by the swamps and creeks of the original Mexican land grant. From the 1860s legend of Widow O'Brien's cow to the current fight over the preservation of the branch library's murals, residents have tirelessly guarded and recorded their environment. Bernal is diverse, vibrant, and still evolving.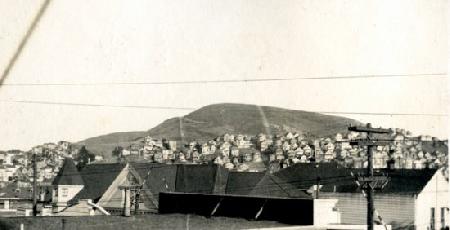 This site aims to provide a solid basis in researching the neighborhood. Browse the links, subscribe to our newsletter, and contact us if you want to know more about anything Bernal-related not shown here.
Historic Bernal News
Said to Be a Footpad.

December 10, 1892



William Price, a painter, living on Bernal Heights, is in the city prison charged with attempted robbery.

W.L. Ryan, salesman in a Third-street shoe store, was waylaid on Army street, near Folsom, late Thursday night as he was going to his home on Gunnison street.

After going through Ryan's pockets and getting nothing the footpad escaped. Policemen Phillips and O'Connell arrested Price for the crime, finding him at home in bed. He was identified by employes of the Omnibus Railway Company, who saw the attempted robbery.