Bernal History Project
Bernal Heights is a hilltop village, tucked away in the southern part of San Francisco. Freeways and urban thoroughfares now bound a neighborhood once defined by the swamps and creeks of the original Mexican land grant. From the 1860s legend of Widow O'Brien's cow to the current fight over the preservation of the branch library's murals, residents have tirelessly guarded and recorded their environment. Bernal is diverse, vibrant, and still evolving.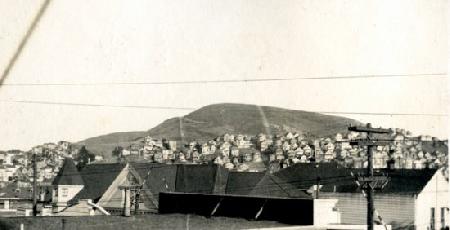 This site aims to provide a solid basis in researching the neighborhood. Browse the links, subscribe to our newsletter, and contact us if you want to know more about anything Bernal-related not shown here.
Historic Bernal News
Two Hard Characters Arrested on Bernal Heights.

May 5, 1894



Frank Fannan, a young man, was arrested last evening for burglary. He is charged with having entered the house of Ramond Potacy, a music teacher, living on Silver avenue and the San Bruno road.
On Thursday when Potacy returned to his home hefound Fannan and another fellow in the house. They ran away, but he caught Fannan, who was rescued by the Bernal Heights gang of hoodlums. Potacy swore out a warrant for Fannan's arrest.
Joe Lafferty was arrested on two charges of burglary. Six months ago he and three others broke into a grocery owned by a man named Lingrave on Courtland avenue and Moultrie street. They drove Lingrave from the house which they looted. For this Billy Bell and Joe McNamie were arrested and the latter was sent to the State's prison. Bell was acquitted and Lafferty fled.
Last January Lafferty and Tom Ryan entered the house of Dennis L. Driscoll at Twenty-sixth and Florida streets, and, after beating the owner into insensibility, broke open a trunk with an ax. They stole money and valuables from the trunk and escaped. Ryan was caught, but was acquitted, it being shown that Lafferty was the offender.