Bernal History Project
Bernal Heights is a hilltop village, tucked away in the southern part of San Francisco. Freeways and urban thoroughfares now bound a neighborhood once defined by the swamps and creeks of the original Mexican land grant. From the 1860s legend of Widow O'Brien's cow to the current fight over the preservation of the branch library's murals, residents have tirelessly guarded and recorded their environment. Bernal is diverse, vibrant, and still evolving.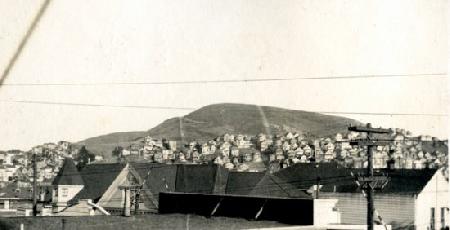 This site aims to provide a solid basis in researching the neighborhood. Browse the links, subscribe to our newsletter, and contact us if you want to know more about anything Bernal-related not shown here.
Historic Bernal News
Bernal Grammar School Celebrates Graduation

December 21, 1912 San Francisco Chronicle



The Bernal Grammar School celebrated graduation day on Thursday with an excellent programme submitted by the pupils. Many parents were present and the programme was thoroughly enjoyed.


Those who received diplomas were: Evelyn Commins (Denman medal), Gertrude Gately, Anita McArrow, Vina McDonald, Ella Meehan, Annie Movello, Aileen Stanford, Irene Zammerman, William Bates (Bridge medal), Joseph Bonavia, Albert Broderick, Helmer Carlson, Daniel Driscoll, Karl Erickson, Emil Erickson, Norbert Feyling, Harold Kelly, Arthur Lind, Ben Lindholm, Walter Mortley, George Radford, Leo Shepard, William Murphy, Stewart Taylor, Francis Ward and John Young.