Earthquake Shacks
in Bernal Heights
Read about our October 2004 earthquake shack presentation.
Immediately after the 1906 earthquake and fire, tented refugee camps for those made homeless sprang up across the city in parks and other public spaces. (In our neighborhood, this included Precita Park and Dolores Park.) As winter approached, city authorities realized that sturdier forms of shelter were needed, and so around 5,600 cottages, or shacks, were quickly built by union carpenters in three sizes designed by the US Army.
The shacks were basic one-roomed wooden structures without plumbing or heating. Residents paid a minimal rent and had to obey military-style rules against peeking, drunkenness, and misbehavior in the camps. After about a year, the camps began to close -- some people took their shacks with them, often heading west to the Sunset and the Richmond districts where land was available. Some were hauled up the hill to Bernal from the Precita camp. They were only ever intended to be temporary homes -- but enterprising residents took care of them, and many survive today.
The Western Neighborhoods Project has worked hard to preserve and catalog the remaining S.F. shacks.
Jane Cryan, the undisputed expert on San Francisco's earthquake cottages (her unpublished book, Hope Chests, can be found in the SFPL's History Center), has identified 21 surviving shacks -- but there could be others.
Bernal Heights has the largest surviving collection of earthquake shacks in the city. More than a dozen of these tiny, temporary homes have lasted more than a century on the hill, subsumed into larger homes or proudly standing alone on their lots. They are living history, proof of the survival of San Francisco.
Bernal Shacks confirmed by Jane Cryan
Photos by Diane Hanneman, 2004.
43 Carver Street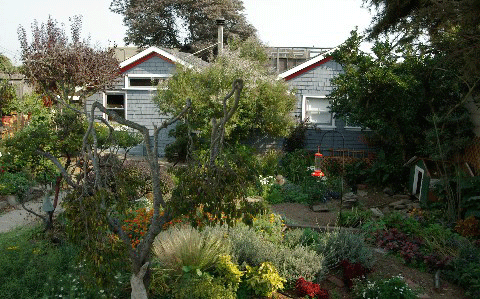 Two shacks combined by the family of Helene Ferenz.
211 Mullen Avenue
A beautiful example of a Type B shack (14 by 18 feet).
150 Cortland Avenue
A shack with a porch and rear addition.
20 Newman Street
Two shacks stuck together, this time in an L shape.
SFPL photos of shacks in Precita Park and on Crescent Avenue.
Other confirmed Bernal earthquake shacks
48 Cortland, 164 Bocana, 451 Anderson.
As yet unconfirmed earthquake cottages (Nov. 2011)
509 Ellsworth, 842 Moultrie. If you think there are more, let us know!