The Generals of Bernal Hill
by Lynn Ludlow
Despite a widespread perception that Bernal Heights is home for many a peacenik, no other San Francisco neighborhood outside the Presidio has so many permanent memorials to the military. Not monuments. Not statues. Instead, street names.
Gates, Moultrie, Appleton, and Wool. Anderson, Putnam, Banks, and Prentiss. Chapman, Winfield, Wright, and Stoneman.
Bernal's street signs honor more than a dozen general officers from the bloody wars of the nation's first century. Most of these men, like the carnage and waste they supervised, are no longer household names. Only four set foot in San Francisco and none, we suppose, ever chased sheep across the pastoral slopes of 19th-century Bernal Hill.
The only truly famous general to be honored by a Bernal street sign is Louis-Joseph de Montcalm-Grozon, but the Marquis de Montcalm was French.
Other Bernal streets and lanes bear the names of three unremembered Civil War heroes of lesser rank -- a battle surgeon, a murdered colonel and a boatswain's mate who won two Medals of Honor.
Only two battles are memorialized. A badly needed triumph by American revolutionaries in 1777 is remembered with Bennington Street (changed in 1882 from Scott Street). And the defeat of U.S. invaders in Canada near Niagara Falls in 1814 gives us Lundys Lane.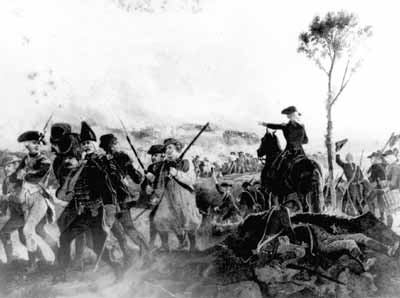 The Battle of Bennington

The Battle of Lundy's Lane
For street names of famous Civil War battles, you must go over to Noe Valley to find Vicksburg, Chattanooga, and Fair Oaks (a street without oaks).
Those who named Bernal's streets before 1870 didn't stop with generals and battles, although it looks as if they may have thumbed through 19th-century schoolbooks for inspiration.
The mythic story of New England's Thanksgiving may have morphed into the streets that criss-cross Bernal's east slope in honor of Puritan leaders William Brewster and William Bradford; the trusting Indian chief Massasoit, leader of the Wampanoags; Samoset, the Pemaquid who helped the intruders; and, of course, the Mayflower itself.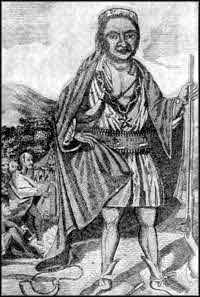 Chief Massasoit
The legend of Pocahontas inspired Powhattan Avenue, a rustic lane named for her fierce daddy as chief of the Powhatan Confederacy of Algonquian tribes in tidewater Virginia.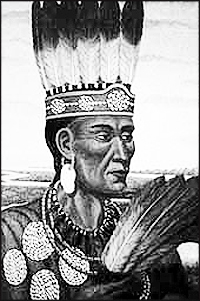 Chief Powhatan>
Heavily hyped admiration for Gen. Andrew Jackson, as seen by the president's uncritical tale-spinners, put Old Hickory Avenue on the 1870 map. It was soon renamed Ogden Avenue, possibly for the Revolutionary War hero, senator and New Jersey governor in 1812, Col. Robert Ogden.

Robert Ogden
Spanish words gave us Bernal streets named Bocana ("entrance," as in the Golden Gate's original name, La Bocana de la Ensenada de los Farallones), Buena Vista ("good view"), Esmeralda ("emerald"), and Precita (which, we are told, could mean "little dam").
From literature: Coleridge Street (changed in 1909 from California Avenue) and Bronte Street (changed in 1882 from Harrison Street).
Samuel Taylor Coleridge
From England: York, Waltham, Hampshire, Manchester, and Norwich streets.
From the wives and daughters of developers, city officials and family friends: Gladys, Elsie, Bessie, and Virginia streets. Or so we assume. Who knows?
We know a little more about the street names of neighboring Noe Valley. The historians tell us that pioneer farmer John M. Horner, a man who must have wearied of references to the Little Jack who sat in the corner, bought a big piece of the San Miguel Rancho from Jose de Jesus Noe in 1852. It's still called Horner's Addition. He laid out streets on paper and gave them names. One was to be called Horner Street; another, Elizabeth Street (for Mrs. Horner). Included were Army Street and Navy Street.
Two years later, Horner lost the heavily mortgaged property to banker Cornelius K. Garrison, the mayor in 1853 and 1854. And later, when the Board of Supervisors decided in 1895 to rename every other South of Market and Mission District street with a number, Horner Street became 23rd Street. Elizabeth Street is still with us, but Navy Street became 26th Street. That left Army Street, which was military in name only, as the northerly border of Bernal Heights. A century later, after an emotional battle of words, the name was changed to Cesar Chavez (Army) Street.
Much less is known about the provenance of Bernal's street names. The Bernal Heights Foundation says on its web site, "The Bernal Heights community was developed in 1839 as part of a large Mexican land grant belonging to Don Jose Cornelio Bernal, called Rancho Rincon de las Salinas y Potrero Viejo. Don Bernal used the area as grazing land for his cattle. ... In the early 1860s, most of what is now Bernal Heights was still largely undeveloped. Even after Francis Pioche, a French-born merchant, subdivided it remained a very rural area. How Monsieur Pioche came in possession of old Don Bernal's Rancho is a mystery to this date."
Pioche? Now we can guess who might have put Montcalm Avenue on the street grid. It honors the French commander defeated by General James Wolfe in 1759 at Quebec. The battle, which killed both generals, made sure that New France would become Canada.
The Official Map of the City and County of San Francisco in 1870 included Bernal Heights, Horner's Addition, and other proposed streets of San Francisco's outer ranchlands. Bernal's streets would have been selected and named in 1868 or 1869, when street namers would have been familiar with Civil War generals. But the streets for the most part existed only on paper -- and the mapmakers didn't leave much of a paper trail.
For an explanation (and for informed speculation on where many street names come from) we're indebted to Louis K. Loewenstein, author of Streets of San Francisco (Wilderness Press, Berkeley). In researching the origins of San Francisco's 1,735 unnumbered and unalphabetized street names, he notes that the conflagration of 1906 incinerated thousands of city records. As he writes in his introduction, the rationales for name changes were generally omitted from Proceedings of the Board of Supervisors.
What's left is logical deduction, which can be scary. It's logical to deduce that Main Street south of Market was supposed to be a main street; it was named, however, for Charles Main (1817-1906), a onetime harnessmaker who became an influential capitalist. The researcher won't have any problem with the origin of, say, Nevada Street. He can suspect that Cortland Avenue was named for the city in upstate New York. But who was Eugenia? And why was her name chosen as a replacement for Lincoln Avenue? Says Loewenstein: "Popular legend has it that she was the daughter of the tollkeeper on San Bruno Road before the turn of the 20th century." Perhaps.
Look beyond Bernal Heights for street names elsewhere in San Francisco that evoke the names of many generals, some of them famous. The list of civilian street names outside the Presidio and Fort Mason includes Burnside, Custer, Dearborn, Fremont, Halleck, Hardie, Ingalls, Kearny, Keyes, Kirkham, Lafayette, Liggett, (Arthur) MacArthur, McDowell, Meade, Ord, Pope, Scott, Shafter, Sheridan, Taylor, Whipple and, of course, Jackson and Washington. Three names deserve special mention:
A heavily traveled Richmond District boulevard would have been 13th Avenue (unlucky) but for the name of Gen. Frederick Funston, whose slaughter of thousands of noncombatants in the Philippine-American War of Independence was overlooked when he was bedecked with the Medal of Honor.
The same arterial ducks under the Presidio Golf Course via a tunnel aptly named for Douglas MacArthur. To many an unworshipful GI in World War II, the supremely arrogant five-star general was known perhaps unfairly as Dugout Doug.
Pueblo Yerba Buena's first main street, the Calle de Fundacion, was renamed Dupont Street in 1847 for Navy Capt. Samuel F. Du Pont, later an admiral in the Civil War. From Market to Bush streets, the downtown section of Dupont Street was renamed again in 1876 to honor Gen. U.S. Grant, the outgoing president. (The rest of Dupont, from Bush to North Point streets, became Grant Avenue in 1908. In Chinatown, however, Cantonese speakers still call it Du Pon Gai.) The Union general's Civil War triumph is reflected in a comparison of Grant Avenue, one of the city's best-known thoroughfares, with Lee Avenue. It's probably named for Gen. Robert E. Lee, the Confederate defender of slavery and slaveholder, or maybe his son, Lt. Custis Lee, who was stationed in San Francisco at one point. Lee Avenue, short and forgettable, is a humble little street in the Oceanview District, a neighborhood favored by African-American families.
Bernal Heights historian Jerry Schimmel contributed to this piece. Retired newspaperman Lynn Ludlow, a resident of Bernal Heights, was a reluctant Army draftee during the Korean Conflict. He developed a critical perspective toward generals while somehow attaining the rank of Private E-2. E-mail him with your comments on possible errors, omissions, and opportunities for additional research.