A Century of Bernal Crime
By Vicky Walker
A November 1894 story in the San Francisco Chronicle described Bernal Heights as "this paradise of the agile goat and the speckled hen." However, life on the hill has not always been so peaceful.
The Chronicle reported in January 1882 that a "regularly organized" gang of young boys was killing horses and other animals on the hill and skinning them to sell the hides. In February 1892, one William McNamee was arrested for making a "predatory raid" on Mrs. Wilson's goose ranch -- for feather bedding or for a roast dinner, we aren't told. Meanwhile, in March of that year, a "mob of Bernal Heights hoodlums" pelted police officers with stones as they tried to arrest an Alabama Street man for drunkenness.
In September 1898, chief deputy keeper of the city pound Frank Tyrrell pistol-whipped Cortland Avenue grocer Gottlieb Katz during a raid to round up the wild goats that roamed the hill. Tyrrell took the Katzes' pet goat -- by mistake or design -- and when Katz protested, the two got into a brawl. Bernal residents assembled to protest the round-up: Tyrrell claimed that "while engaged in the goat drive, the whole neighborhood rose up against him and battered his party with stones."
What may be Bernal Heights' first one-boy crime wave was immortalized (with a drawing of a sullen youth in pantaloons) in the August 1896 Chronicle story "Juvenile Terror of Bernal Heights." Young Frank Quinlan of 14 Elsie Street so irked residents with his frequent stone-throwing that thirteen of them signed a petition asking a judge for protection from his misdeeds, which included broken windows, brawling, kleptomania, and "the use of bad language and a tendency to pugilism." The article insisted more light-heartedly that Quinlan "simply hates stones, especially those of throwing size, and whenever he sees one he casts it from him."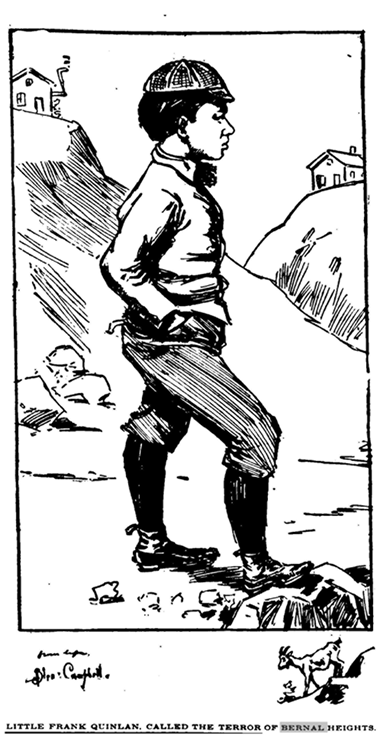 Frank Quinlan, ace stone-thrower.
Far less threateningly, two men were arrested in March 1903 for stealing "a portion of Bernal Heights" -- digging up some earth, for reasons unstated.
Never doubt those rumors of rivalry between the north and south sides of the hill. In February 1920, what police described as gang fights involving as many as 300 men and boys raged for several days. The rivalry between the Cortland Avenue and Precita Avenue gangs came to a head during a melee when 20-year-old Louis Coppo of Andover Street was shot and killed by 15-year-old James Byne of Rutledge Street.
Philip Ragone, also 15, of Bessie Street, told the Chronicle: "These boys always come on our side of the hill and break our kites and spoil our games. The feud among us has been going on three years. We have had several gang fights." As a result, "a special detail of uniformed officers instructed to use their clubs freely will police the Bernal Heights district," while some residents pleaded for a clubhouse and outdoor sports programs for youth.
These stories -- and others from the Chronicle's news archives from 1865 to 1922 -- can be found online at the San Francisco Public Library's Articles and Databases page if you have an SFPL library card.
[top]