Elizabeth W. Mikulas
May 12, 1916-March 13, 2011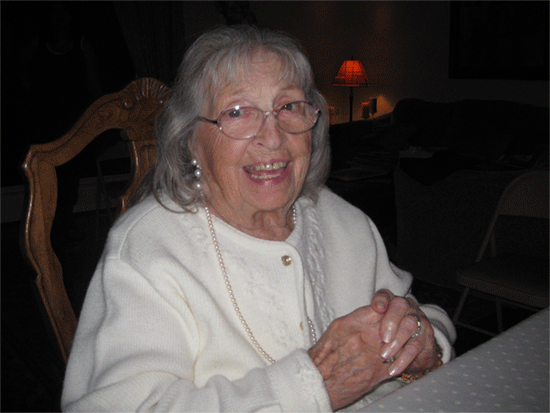 Elizabeth Hird was an energetic and outgoing girl who loved to play baseball and skate down Elsie Street. She moved to that street with her family when she was three months old, and spent the rest of her life there. She grew up with cousins across the back fence and grandparents next door. She graduated from Junipero Serra Elementary School; Bernal Grammar School, where she was VP of her eighth-grade class; and Girls' High School.
Elizabeth's father kept animals in the backyard, and she often told the story of taking her father's goats down the street to nibble on the grass and control the weeds. She remembered going to a little store at the corner of Cortland and Bonview that I remember as Minnie's. On Sunday mornings, her mother would give her a nickel, and she and her siblings would go to that store and buy a loaf of French bread, hollow it out, fill it with sugar and butter or ham and mayonnaise, and then eat it. That was a happy memory for her.
In 1940, Elizabeth married Matej Mikulas, who was born on Costa Street. They rented 306 Elsie, a house that wasn't there when she was young. They lived there for four years and then moved with their daughters, Betty and Janet, across the street, where they bought a house next door to her parents. Her grandparents lived on the other side, and her aunt, uncle, and cousins lived directly behind that house on Bocana Street.
As a homemaker, she shopped at many of the stores along Cortland: Reliable Grocery at the corner of Bocana, the shoemaker, Bleuss's Meats, Bank of America, and Arrow Pharmacy on the corner at Wool. During her later years, she loved sitting in the window and looking out on Elsie Street, fondly remembering her youth. To the Bernal History Project, she was "Queen Elizabeth," a title lovingly bestowed on her for in gratitude for the many family photographs and stories she shared.
Elizabeth was the devoted wife of the late Matej Mikulas, the beloved mother of Betty Kancler (Cliff) and Janet Thompson (Jack, deceased; Frank Williams); loving grandma of Erik Kancler (Amy), Benjamin Thompson, Kristen Kancler, Elizabeth Thompson (Robert Larson), Joy Tsukamoto, and Filippo Williams; loving great-grandma of Kenji, Kegan, and Colton Thompson; Hannah Kancler; and Ava Larson. Lydia Gumagay provided her with four years of friendship and care, for which the family is eternally grateful. Her family was her world, and there was nothing she enjoyed more than to have gatherings at her home with her children, grandchildren, and, eventually, great-grandchildren.
Elizabeth lived 94 years on Elsie Street, the last of her friends to go, and the end of an era for the Watson/Hird/Mikulas family on the Hill. She had the love and respect of all who know her, and will be remembered for her beautiful smile, infectious laugh, and her generosity and unconditional love. Private services were held.