Joseph "Bud" Robbins
Dec. 2, 1926-Jan. 31, 2009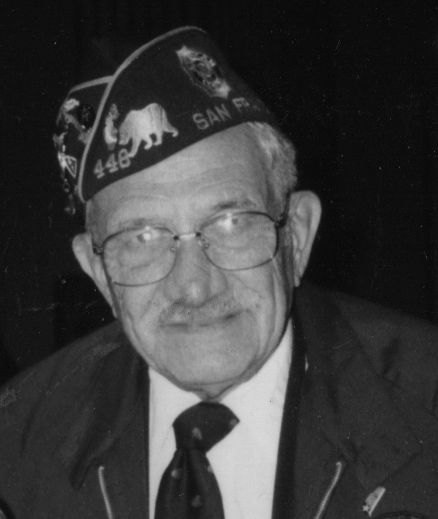 Bud was born in Binghamton, New York, and raised in Elmira, N.Y. He was known for his wit, humor, and generous heart.
During World War 2, he served in the Navy in the medical corps in Boston. In Ask, Do Tell: Gay and Lesbian Veterans Speak Out (Steve Estes, 2007), he recalled, "I went into the Navy after having seen Anchors Aweigh. And I really thought I was going to sing and dance my way through the service (laughter) as Gene Kelly and Frank Sinatra had done. I had that in the back of my head."
Bud had a lot of pride and no apologies about his life as a gay man, his friend and neighbor Moli Steinert recalls: "He lived with a sense of joy, and just assuming his place in the world." He loved the arts, music, and books. His niece, Judi Gorski, calls him a "free thinker" and great joke-teller who had a soft spot for nature.
As a young man, Bud originally wanted to be a journalist. The GI Bill enabled him to go to college after the war. He attended the University of Missouri and later transferred to NYU. He earned his master's degree in education at San Francisco State.
Bud worked as an advertising copy editor and later as a teacher in New York and Texas. He moved to San Francisco in 1959, and spent 27 years as an English and French teacher at South School and Crocker School in Hillsborough. He never hid the fact that he was gay, despite the 1978 campaign for Proposition 6, a ballot measure which would have expelled gay teachers from state schools (and against which Harvey Milk fought tirelessly). When he arrived at school one day and found graffiti on the blackboard that read "Mr. Robbins is an old queen," he waited for all his students to arrive before asking one of them to erase the word "old."
On Bud's retirement, school trustee Bruce Hasenkamp was quoted as saying, "Ever since childhood, I thought the highest compliment one could pay someone was to call him a teacher. The highest compliment one can pay a teacher is to say he's almost as good as Bud Robbins."
Bud and his partner, Joe Maloney, moved to Bocana Street in Bernal Heights in 1963; the two were together for 33 years. Bud was a charter member of the Alexander Hamilton American Legion Post 448, founded in 1984. It is the only post in the nation whose membership of veterans is predominantly gay, lesbian, bisexual, and transgendered. He was a tireless activist for gay rights, a proud member of Veterans for Peace and PFLAG (Parents and Friends of Lesbians and Gays), and marched in many Veterans Day and Gay Pride parades in San Francisco and New York. With his pals and fellow veterans from Post 448, he took part in the annual Hillwide Garage Sale until ill health prevented him from continuing.
On February 10, upon a motion made by Supervisor Carmen Chu, the Board of Supervisors adjourned its regular meeting out of respect for Bud's memory and "his many fine qualities of heart and mind.
Bud is survived by his sister, Dorie Lurie; niece, Judi Gorski; Judi's husband, Stephen J. Gorski, and their son, Justin Gorski; closest friend, Bill "Pete" Peterson; and a host of friends, former colleagues, and neighbors. Bud's last generous act was to donate his body to medical science. His family is creating a memorial garden for him at their cabin in Healdsburg, using the native California plants he so loved.