Bernal History Project
Bernal Heights is a hilltop village, tucked away in the southern part of San Francisco. Freeways and urban thoroughfares now bound a neighborhood once defined by the swamps and creeks of the original Mexican land grant. From the 1860s legend of Widow O'Brien's cow to the current fight over the preservation of the branch library's murals, residents have tirelessly guarded and recorded their environment. Bernal is diverse, vibrant, and still evolving.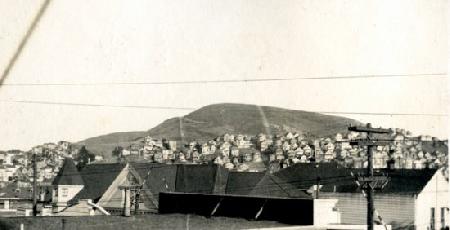 This site aims to provide a solid basis in researching the neighborhood. Browse the links, subscribe to our newsletter, and contact us if you want to know more about anything Bernal-related not shown here.
Historic Bernal News
This City's Fires

July 5, 1893



The big fire of the night occurred on Bernal Heights at an early hour this morning. An alarm was turned in at 1:30 o'clock from box 284, but it was fully half an hour before a stream of water could be brought to bear on the blaze.

The fire started in the three-room cottage of C. Carlson on Kosciusko street near Jefferson. Mr. Carlson had just completed a large two-story frame structure on the corner lot adjoining, and this was soon in flames.

The two-story structure was built to be occupied as a store on the lower floor, with lodgings above. It had not yet been occupied.

When Chief Sullivan arrived on the scene the three-room cottage was in ashes and the latter structure was blazing briskly. A hose company had already arrived, but the engines were unable to climb the sharp hill. For nearly half an hour the only stream that was playing on the flames was from a hydrant three blocks distant, and as the burning houses were but a few feet below the level of the reservoir on the hill, the stream had no force and was practically useless.

Finally a number of vaqueros went to the assistance of one of the engines and hauled it up the hill to the only cistern in the neighborhood, but by that time Carlson's property was all in ashes.

Carlson estimates his damage at $8000, of which $4500 was for the new building just completed. All of his household effects were destroyed.

The one-story frame building on the corner of Kosciusko street and Cortland avenue, owned by a Mrs. Farmer and occupied as a saloon by John Langrin, was slightly damaged.