Bernal History Project
Bernal Heights is a hilltop village, tucked away in the southern part of San Francisco. Freeways and urban thoroughfares now bound a neighborhood once defined by the swamps and creeks of the original Mexican land grant. From the 1860s legend of Widow O'Brien's cow to the current fight over the preservation of the branch library's murals, residents have tirelessly guarded and recorded their environment. Bernal is diverse, vibrant, and still evolving.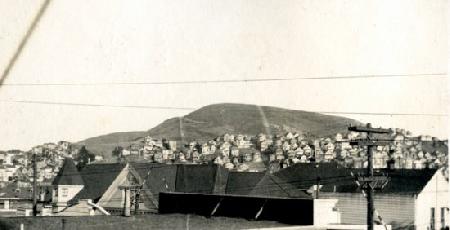 This site aims to provide a solid basis in researching the neighborhood. Browse the links, subscribe to our newsletter, and contact us if you want to know more about anything Bernal-related not shown here.
Historic Bernal News
Automobile Kills Bernal Heights Lad

March 21, 1916 San Francisco Chronicle


Eight-Year-Old Boy Dies Soon After Reaching Hospital

George Greenland, a boy 8 1/2 years old, who lived at 23 Porter Street, Bernal Heights, was struck by an automobile early last evening driven by James Soukas of 317 Third Street and died fifteen minutes after being taken to the Mission Emergency Hospital. The accident occurred at the junction of Cortland and Mission streets. Soukas was booked at the Mission Police Station on a charge of manslaughter.