Bernal History Project
Bernal Heights is a hilltop village, tucked away in the southern part of San Francisco. Freeways and urban thoroughfares now bound a neighborhood once defined by the swamps and creeks of the original Mexican land grant. From the 1860s legend of Widow O'Brien's cow to the current fight over the preservation of the branch library's murals, residents have tirelessly guarded and recorded their environment. Bernal is diverse, vibrant, and still evolving.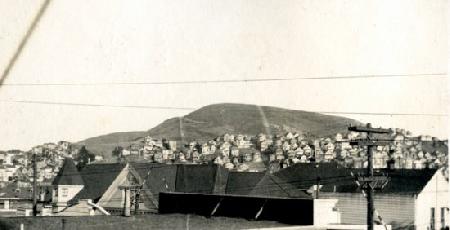 This site aims to provide a solid basis in researching the neighborhood. Browse the links, subscribe to our newsletter, and contact us if you want to know more about anything Bernal-related not shown here.
Upcoming Events
Nov 21, 2018 12:00am-12:00am (Wednesday)
No meeting this month -- HAPPY THANKSGIVING!
The Bernal Library closes at 5 p.m. More Info...
Historic Bernal News
Girl at Play Sets Her Home on Fire

April 25, 1914 San Francisco Chronicle


Fireman Have a Difficult Task in Reaching Blaze on Summit of Bernal Heights.

While playing with matches, the six-year-old daughter of John Simpson of 120 Tomaso Street started a fire yesterday morning which totally destroyed a cottage, located on the summit of Bernal Heights, and damaged an adjoining dwelling. On account of the location of the house it was necessary for firemen to couple more than 1200 feet of hose and stretch this over the steep grade before the blaze could be fought. The flames damaged the home of Andrew Kolessar, at 136 Tomaso street. The loss is estimated at $1500.