Bernal History Project
Bernal Heights is a hilltop village, tucked away in the southern part of San Francisco. Freeways and urban thoroughfares now bound a neighborhood once defined by the swamps and creeks of the original Mexican land grant. From the 1860s legend of Widow O'Brien's cow to the current fight over the preservation of the branch library's murals, residents have tirelessly guarded and recorded their environment. Bernal is diverse, vibrant, and still evolving.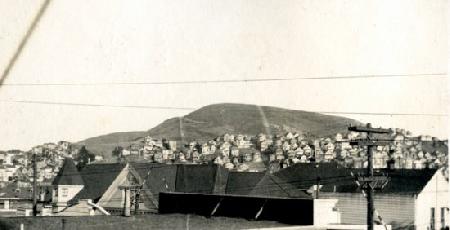 This site aims to provide a solid basis in researching the neighborhood. Browse the links, subscribe to our newsletter, and contact us if you want to know more about anything Bernal-related not shown here.
Historic Bernal News
Boy Bystander Killed In Fight Of 2 S.F. Gangs.


Feud in Bernal Heights District Results in Fatal Shooting - THREE YOUTHS ARRESTED

Police Say 300 Persons Engaged in Battle with Rifles and Stones

A gang feud that has been raging with frequent battles for several days in the Bernal Heights district resulted in the death by shooting last night of Louis Coppo, 20 years old, who lived at 97 Andover street.

James Byne, 15 years old, living at 317 Rutledge street, was arrested shortly after and confessed to Detective Sergeant James Skelly that he fired the shot which killed Coppo, according to Skelly. He said that Coppo ran up to him and struck him with a lead pipe and he then shot Coppo with a small rifle. He said that the rifle belonged to Philip Ragone, who was arrested by Skelly early in the evening. Ragone is 15 years old and lives at 60 Bessie street.

Boy Tells Coppo of Fight Several Blocks Away


According to the police, Coppo was returning home from work when he met his twelve-year-old cousin Joseph Coppo. The boy told Coppo of a fight that was being waged a few blocks away, and said he thought his brother was engaged in it. The pair started for the scene, and as they approached they were forced to cross the street to keep out of the way of rocks that were being hurled in their direction. More than 300 men and boys were involved in the fight.

According to the police, as Coppo and his cousin approached the scene the crowd started to work its way over to their side of the street. Suddenly some one started shooting, and after several shots had been fired, Coppo fell to the street, fatally wounded, with a bullet in his back.

Men Engaged in Fight Run When Coppo Drops


As Coppo dropped, the men in the fight ran, and in a few moments none of them were to be seen. Coppo was taken to St. Luke's Hospital, where he was pronounced dead. It was not until the Coroner's deputies arrived that it was discovered he had been shot, as it was believed that he had been struck by a rock.
Samuel Fredella, 16 years old, living at 27 Bessie street, was arrested with Byne and Ragone. The three boys at first denied firing any shots. They finally admitted that they each had a rifle which they fired. After being questioned Byne confessed that he fired point blank at Coppo, according to police.

According to the police, more than three hundred men and boys have taken part in the gang fights that have been raging for several days. The police have been called several times recently to quell disturbances in the neighborhood, but each time the participants have disappeared before they arrive.
The police say that the factions that waged the fight last night are known as the Cortland avenue and the Precita avenue gangs.

Coppo was a laborer and is survived by his parents and a younger brother.