Bernal History Project
Bernal Heights is a hilltop village, tucked away in the southern part of San Francisco. Freeways and urban thoroughfares now bound a neighborhood once defined by the swamps and creeks of the original Mexican land grant. From the 1860s legend of Widow O'Brien's cow to the current fight over the preservation of the branch library's murals, residents have tirelessly guarded and recorded their environment. Bernal is diverse, vibrant, and still evolving.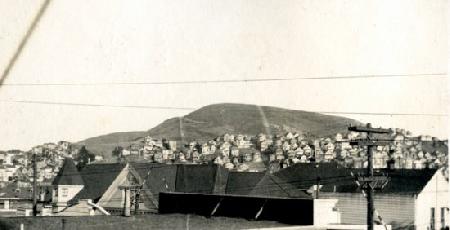 This site aims to provide a solid basis in researching the neighborhood. Browse the links, subscribe to our newsletter, and contact us if you want to know more about anything Bernal-related not shown here.
Upcoming Events
Sep 18, 2019 7:00pm-8:30pm (Wednesday) at Bernal Heights Branch Library
A History of Water in San Francisco and the Spring Valley Water Company


When you turn on your water faucet, do you ever think about the history of the water companies and delivery systems that allow you unfettered access to one of the most important and critical resources on the planet -- clean, fresh water? San Francisco is fortunate to have a pristine water source providing some of the best water on the planet to 2.4 million people in San Francisco, Alameda, Santa Clara, and San Mateo counties. More Info...
Historic Bernal News
A Bernal Heights Blaze.

April 30, 1893


Michael O'Brien's Cottage Burned to the Ground.

The one-story frame dwelling of Michael O'Brien on Plymouth avenue, between North avenue and Patton street, was burned to the ground last evening. The alarm was turned in from box 284 at 8:15 o'clock.

When the Fire Department arrived at the top of Bernal Heights, where the cottage was blazing, the structure was so far gone and the hydrants were so few and far between that nothing could be done to save it. One stream of water was all that the Fire Department was able to turn upon the flames.

Very little furniture was saved. The loss is $2500, partly covered by insurance. The cause was a defective flue.

About 8:30 o'clock last night a fire broke out in the one-story frame building at 6 Plymouth avenue, in Holly Park, near Bernal Heights. An alarm was turned in from box 284, but before the Fire Department arrived the place was burned to the ground.

The building was occupied as a plumbing shop by Michael O'Brien. The damage to the building and contents amounts to about $3000. The cause of the fire is unknown.