Bernal History Project
Bernal Heights is a hilltop village, tucked away in the southern part of San Francisco. Freeways and urban thoroughfares now bound a neighborhood once defined by the swamps and creeks of the original Mexican land grant. From the 1860s legend of Widow O'Brien's cow to the current fight over the preservation of the branch library's murals, residents have tirelessly guarded and recorded their environment. Bernal is diverse, vibrant, and still evolving.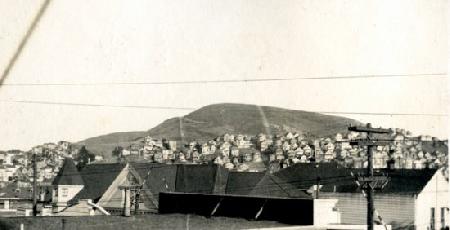 This site aims to provide a solid basis in researching the neighborhood. Browse the links, subscribe to our newsletter, and contact us if you want to know more about anything Bernal-related not shown here.
Upcoming Events
Oct 17, 2018 7:00pm-8:30pm (Wednesday) at Bernal Heights Branch Library
Irish Hill, The Potrero's Lost Neighborhood


Irish Hill is a neighborhood that literally disappeared. More Info...
Historic Bernal News
A Lively Row Among Bernal Heights Statesmen

October 25, 1882



The property-owners of Democratic proclivities of the thirtieth precinct of the Eleventh ward assembled last evening in Byrne's Hall, situated on Bernal Heights. The Chairman, Daniel Sullivan, explained that the objects of the meeting were to counteract the effects of a Democratic piece club started in that precinct by men outside the boundaries, and to try to remedy the long-felt want of gas and water on Bernal Heights by a combination of the property-owners. But he said designing men had come from Twenty-third street and cunningly endeavored to cast stigma on the Democrats of Bernal Heights by starting a piece club. He thought these Twenty-third-street aliens should be "sat down on." The signing of the roll was then proceeded with, but several present refused to join.

Mr. Sullivan introduced the following resolution, which was carried:

WHEREAS, Some non-residents have endeavored to form an independent club in this thirtieth precinct of the Eleventh ward for objects best known to themselves; therefore be it

RESOLVED. That the bona fide Democratic voters of this precinct hereby repudiate any such move, no matter by whom gotten up; and we hereby caution candidates of all parties that no such independent club will be tolerated hereabouts; further

RESOLVED. That we will keep up our record and vote the Democratic ticket five to one.

At this point a crowd, headed by Thomas Murphy and Thomas La Rue, began a disturbance. They represented the independent duo alluded to in Mr. Sullivan's resolutions. Mr. Sullivan refused to allow Murphy the privilege of the floor. A war of epithets filled the air, and both men shook their fists in each other's faces. Occasionally the fight would be taken up by others, but the Messrs. Murphy and Sullivan, being gifted by nature with the strongest of lungs, could be heard like great guns, loud above the din of the tumult. They characterized one another as "piece makers and wirepullers," and finally the lie was exchanged.

The Chairman told his strong-lunged political antagonist that he would bore a hole through him. At this threat Murphy took off his coat and declared that Sullivan nor none of his friends could lick him. Then the room became the scene of the wildest confusion, as half were in favor of fighting and the other half trying to prevent it. After an athletic struggle of fifteen minutes quiet and the overturned benches were restored. A motion to appoint ten Sergeants-at-Arms was lost in the heat of the conduct. A permanent organization was then elected and W.S. Morrisey was elected President; P. Tolan, Vice-President; John McMason/McMahon, Secretary; and Owen McCabe, Treasurer.

A resolution was adopted that none outside the precinct should be allowed to join the club. Notwithstanding this fact Mr. Murphy endeavored to get on the roll, and Mr. Sullivan opposed him. For half an hour these two statesmen of Bernal Heights were like buckets in a well, when one sat down empty the other jumped up full of eloquence. Mr. Murphy's proposition was looked coldly upon and it was tabled. The meeting then adjourned.