Bernal History Project
Bernal Heights is a hilltop village, tucked away in the southern part of San Francisco. Freeways and urban thoroughfares now bound a neighborhood once defined by the swamps and creeks of the original Mexican land grant. From the 1860s legend of Widow O'Brien's cow to the current fight over the preservation of the branch library's murals, residents have tirelessly guarded and recorded their environment. Bernal is diverse, vibrant, and still evolving.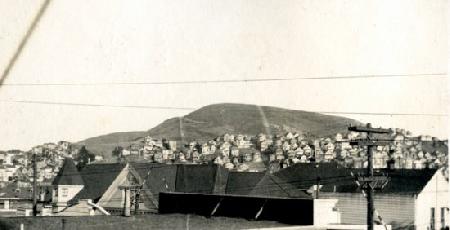 This site aims to provide a solid basis in researching the neighborhood. Browse the links, subscribe to our newsletter, and contact us if you want to know more about anything Bernal-related not shown here.
Historic Bernal News
Holland's New Gun.

November 9, 1891 San Francisco Chronicle


It Causes His Arrest for Assault with a Deadly Weapon.

Hugh Holland has a new gun, and to steady his nerves for a test of its accuracy he nearly incapacitated himself with liquor.

He found his way to Bernal Heights yesterday and began firing indiscriminately. Officers Shannon and Morrow made their way up the hill and encountered Holland, who was trying to make a pot shot at a sparrow. They told him he was under arrest, but he pointed the gun at Shannon.

Morrow, by a strategic move, got behind Holland and overpowered him. He was charged at the Seventeenth-street station with discharging firearms and assault with a deadly weapon.