Bernal History Project
Bernal Heights is a hilltop village, tucked away in the southern part of San Francisco. Freeways and urban thoroughfares now bound a neighborhood once defined by the swamps and creeks of the original Mexican land grant. From the 1860s legend of Widow O'Brien's cow to the current fight over the preservation of the branch library's murals, residents have tirelessly guarded and recorded their environment. Bernal is diverse, vibrant, and still evolving.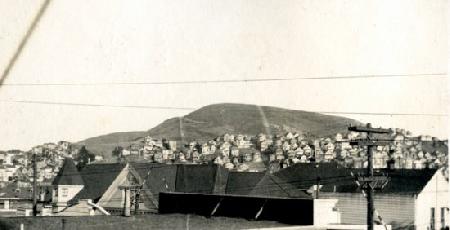 This site aims to provide a solid basis in researching the neighborhood. Browse the links, subscribe to our newsletter, and contact us if you want to know more about anything Bernal-related not shown here.
Upcoming Events
Oct 17, 2018 7:00pm-8:30pm (Wednesday) at Bernal Heights Branch Library
Irish Hill, The Potrero's Lost Neighborhood


Irish Hill is a neighborhood that literally disappeared. More Info...
Historic Bernal News
Dangerous Sport

May 20, 1893


A Boy Struck By a Bullet from an Air Gun.

Gus Scheff, a boy living at the corner of Mayflower and Winslow streets in Bernal Heights, was shot in the head last Saturday afternoon by a missile from an air gun while he was driving a cart past the corner of Capp and Twenty-fifth streets.

At the time the shooting occurred three small boys were standing on that corner, each armed with an air gun. As the injured youth drove by they raised their weapons and apparently fired at Scheff. At any rate he felt a sharp pain in his head just after they fired, and found that blood was pouring from a wound near the top of his head above the right ear. The force of the shot was interrupted by striking a stiff hat which the boy wore. Much more serious results might have come of it had not this happened.

Dr. Coffey, who is attending Scheff, has not yet removed the bullet, and the patient is suffering from a badly swollen head. The wound is not dangerous unless blood-poisoning sets in.

One of the trio of youngsters who did the shooting was called Harvey Hall by his companions. Another was a boy named Becker, living near Valencia and Nineteenth streets. They claim to have done it "just in fun."