Bernal History Project
Bernal Heights is a hilltop village, tucked away in the southern part of San Francisco. Freeways and urban thoroughfares now bound a neighborhood once defined by the swamps and creeks of the original Mexican land grant. From the 1860s legend of Widow O'Brien's cow to the current fight over the preservation of the branch library's murals, residents have tirelessly guarded and recorded their environment. Bernal is diverse, vibrant, and still evolving.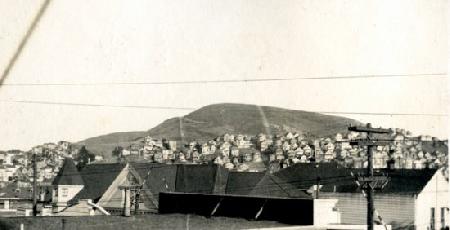 This site aims to provide a solid basis in researching the neighborhood. Browse the links, subscribe to our newsletter, and contact us if you want to know more about anything Bernal-related not shown here.
Historic Bernal News
An Old Woman Drowned.

April 17, 1892


Mrs Caroline Quinlan's Fatal Fall Into a Reservoir.

Mrs. Caroline Quinlan was accidentally drowned late yesterday afternoon. She was 53 years of age and lived with her husband, Thomas Quinlan, on the corner of Cortland avenue and Cherubusco street.

Quinlan has charge of the Bernal Heights reservoir, and he and his wife frequently wandered around the edge of the basin.

About 4 o'clock the old man missed his wife from the house and went to the pond. To his horror he saw her body floating in the water a short distance from the shore.

He got help and took the woman into the house, for life was not yet extinct. Dr. Titus was called and for several hours worked to save Mrs. Quinlan, but without success.

The case was reported to the Coroner. There was no doubt but what the drowning was accidental.