Bernal History Project
Bernal Heights is a hilltop village, tucked away in the southern part of San Francisco. Freeways and urban thoroughfares now bound a neighborhood once defined by the swamps and creeks of the original Mexican land grant. From the 1860s legend of Widow O'Brien's cow to the current fight over the preservation of the branch library's murals, residents have tirelessly guarded and recorded their environment. Bernal is diverse, vibrant, and still evolving.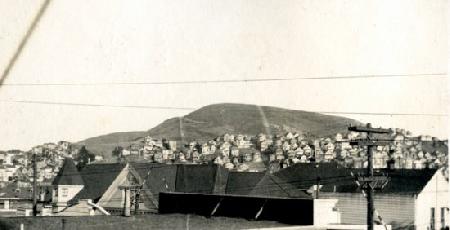 This site aims to provide a solid basis in researching the neighborhood. Browse the links, subscribe to our newsletter, and contact us if you want to know more about anything Bernal-related not shown here.
Upcoming Events
Oct 17, 2018 7:00pm-8:30pm (Wednesday) at Bernal Heights Branch Library
Irish Hill, The Potrero's Lost Neighborhood


Irish Hill is a neighborhood that literally disappeared. More Info...
Historic Bernal News
Bernal Heights Wants More Cars

February 25, 1910 San Francisco Chronicle


Also Desires Opening of Costa Street

At the last meeting of the Peralta Heights and Vicinity Improvement Club, the question of securing additional car service on San Bruno avenue was discussed. The secretary reported that, at the club's solicitation, delegates had been appointed by the other clubs in the district to confer with Manager Black of the United Railroads on the subject.

Petitions were ordered forwarded to the Board of Supervisors asking that two additional arc lights and two more fire hydrants be placed in the neighborhood.

The members of the organization are jubilant over the starting of construction work on the Wolfe street sewer n an improvement which they have been agitating for a long time.

The members of the Holiday [sic] avenue District Improvement Club are agitating the opening of Costa street to San Bruno avenue. The street has no adequate outlet from the top of Bernal Heights, and the residents fear that, in case of fire, their property would meet with total destruction before the fire apparatus could reach them.

The Board of Public Works has recommended to the Supervisors that sufficient money be appropriated to construct a stone coping around Bernal Park. The improvement clubs of the vicinity have been working on the improvement for a number of years. It is desired to lay out a public playground in a portion of the park when it is improved.