Bernal History Project
Bernal Heights is a hilltop village, tucked away in the southern part of San Francisco. Freeways and urban thoroughfares now bound a neighborhood once defined by the swamps and creeks of the original Mexican land grant. From the 1860s legend of Widow O'Brien's cow to the current fight over the preservation of the branch library's murals, residents have tirelessly guarded and recorded their environment. Bernal is diverse, vibrant, and still evolving.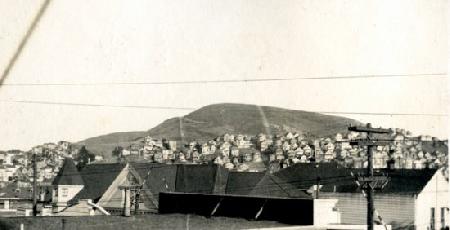 This site aims to provide a solid basis in researching the neighborhood. Browse the links, subscribe to our newsletter, and contact us if you want to know more about anything Bernal-related not shown here.
Historic Bernal News
Charged With Abduction.

June 2, 1891


A Father and His Daughter Arrested for the Offense.

J.G. Pavey, a resident of Bernal Heights, was arrested yesterday on a warrant issued by Judge Worley charging him with the abduction of Annie Barry, who resides with her parents at 118 Chattanooga street.

Pavey, who is employed as a machinist by Rix & Burrell, 38-40 Fremont street, says Miss Barry came to his house a week ago last Friday. She said that her parents had abused her and requested permission to remain at Pavey's house until she could secure other accommodations. As Annie was a friend of Pavey's daughter, he allowed her to remain at his house.

Jennie Pavey, his daughter, was also arrested last night on a warrant and locked up on a charge of abduction. She is a rather handsome girl, about 20 years of age, and told her story to a Chronicle reporter while crying bitterly.
"Annie came to me," she said, "nearly two weeks ago and begged me to let her stay at our house, as it was impossible for her to remain longer at home on account of the treatment which she received. I consented, as I had known her for a long time and was quite fond of her. We went out once or twice together, and passed the time as girls ordinarily do. She was simply my guest at her own request, and she was at liberty to go at any time she pleased. Last Saturday she left the house to visit a mutual friend in Oakland, and I have heard nothing from her since until today, when the officer came to arrest me."

The girl was found at the address given by Miss Pavey in Oakland yesterday and returned to her parents.