Bernal History Project
Bernal Heights is a hilltop village, tucked away in the southern part of San Francisco. Freeways and urban thoroughfares now bound a neighborhood once defined by the swamps and creeks of the original Mexican land grant. From the 1860s legend of Widow O'Brien's cow to the current fight over the preservation of the branch library's murals, residents have tirelessly guarded and recorded their environment. Bernal is diverse, vibrant, and still evolving.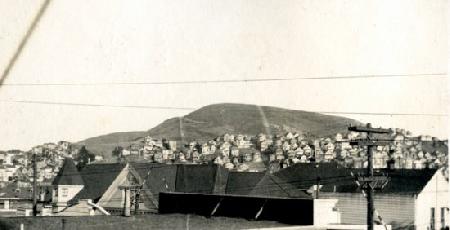 This site aims to provide a solid basis in researching the neighborhood. Browse the links, subscribe to our newsletter, and contact us if you want to know more about anything Bernal-related not shown here.
Upcoming Events
Sep 19, 2018 7:00pm-8:30pm (Wednesday) at Bernal Heights Branch Library
Little Boxes: The Legacy of Henry Doelger


We have a special movie presentation! We are delighted to host Robert Keil for a screening of his film, Little Boxes: The Legacy of Henry Doelger, which is a fascinating visual journey through the Westlake District of Daly City, California. More Info...
Historic Bernal News
Peralta Heights Club obtains Improvements

November 11, 1910 San Francisco Chronicle


Bernal Park Will Have Coping and the Surrounding Streets Are to Be Newly Paved.

At a meeting of the Peralta Heights Improvement Club held on Wednesday night last the members were notified that the Park Commissioners have appropriated money for the construction of a coping around Bernal Park, for which the club has been working for some time.

Among other matters it was announced that the street repair department will soon begin work on paving the city's portion of Folsom street, opposite Bernal Park, and that the final work on the Wolfe street sewer was commenced on November 9th.

The club adopted a resolution of congratulation to James J. Ryan, a member, on his election to the Assembly, and the Board of Public Works was thanked for the large amount of improvements going on in that district.