Bernal History Project
Bernal Heights is a hilltop village, tucked away in the southern part of San Francisco. Freeways and urban thoroughfares now bound a neighborhood once defined by the swamps and creeks of the original Mexican land grant. From the 1860s legend of Widow O'Brien's cow to the current fight over the preservation of the branch library's murals, residents have tirelessly guarded and recorded their environment. Bernal is diverse, vibrant, and still evolving.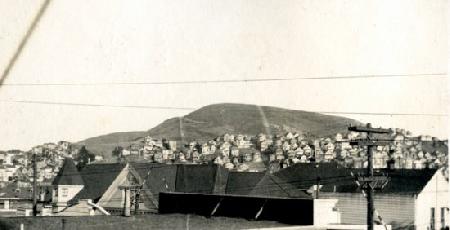 This site aims to provide a solid basis in researching the neighborhood. Browse the links, subscribe to our newsletter, and contact us if you want to know more about anything Bernal-related not shown here.
Historic Bernal News
Juvenile Terror Of Bernal Heights.

August 14, 1896 San Francisco Chronicle


FRANK QUINLAN'S RECORD. THE NEIGHBORS PETITION FOR PROTECTION.

They Say He Throws Stones, Whips His Companions and Acts Viciously.

If there were no stones on Bernal Heights little Frank Quinlan would be one of the model lads of the district. But he simply hates stones, especially those of throwing size, and whenever he sees one he casts it from him.

Unfortunately for him and for the neighbors he always hit something. It may be only a window, or a goat, and then again it may be a boy or girl, or even a man.

"Terror of the Heights" they call him now, and yesterday George Walkmeister of 22 Montgomery street had a warrant issued for the boy, who is under 13 years of age, and he must answer to-day to a charge of battery.

This would be enough hard luck for an average boy, but Frank is an uncommon one. And so when he gets into court he will find that the Judge has for his consideration not only the testimony that young Quinlan threw stones at and willfully smote and bruised the little daughter of the Walkmeister household, but as well a petition signed by thirteen residents of the hill, most of them property-owners, asking that they be protected from the young terror.

The petition makes no recommendation: it lets the matter rest there, but through the minds of the signers there floated visions of Whittier when they put down their names. They do not want to see the lad's father, William Quinlan, a painter, who is universally like, mulcted in damages. They do want to see the lad quarantined.

That unlucky thirteen petition is not based on the little unpleasantness which brought about the specific charge of battery. It rests on the alleged annoyances of two years past. The signers say they have suffered the breaking of windows, the annoyance of their children and the myriad troubles springing from stone-throwing and the use of bad language and a tendency to pugilism, all cultivated by little Frank, in comparative silence, but now they must turn. So they made use of the trouble of little Annie Walkmeister.

The children were on their way home from school the other day when Frankie, from a point of vantage on a hillside, began enjoying himself thoroughly and hugely by tossing stones at the little girl and striking her often enough to prove that his eye was clear and his aim all right. Quickly to the rescue of his little sister ran George Walkmeister, who is 14 years old, and two elder sisters, with Mrs. Walkmeister bringing up the rear. George Walkmeister was hit twice with a half brick, young Quinlan was seized and beaten a bit by various members of the family, it is said, when re-enforcements in the shape of his mother appeared and both sides withdrew from the field in good order.

That is the way they all tell of it. There was stone throwing and a little mix-up and a scattering. Color it to suit the side and it will fit the partisans of either side, for the Quinlan family has friends in the neighborhood who insist it is all an outrage to call Frank a terror. And really, if there is an astonished person on the Heights it is little Frank himself. He cannot see why he is condemned. He said yesterday, with frequent pauses and twists, meanwhile a tear showing in his eye and his lip quivering as he recounted his own trials:

"There wouldn't never bin nothin' if they hadn't called me names. I was goin' home from school when that little girl yelled, 'Rob a dead man!' 'Rob a dead man.' Jimmie Freel made that name up on me; I don't know why. An' I told her to stop an' she wouldn't, an' I hit her and threw another stone at her, and then George Walkmeister come up and I told him to make her stop callin' names, and they all come and got me down and beat me. An' I hit George with a brick."

"Say," chimed in an admiring companion who was listening to the recital. "I'll bet he can throw George right now."

"Course I kin, and the youngster smiled on his admirer and went on to deny that he was an ill-disposed lad, but insisted that what had been done and credited to him was merely the result of ill-directed sportiveness. He never intended to hurt any one, he insisted, and at every point of the indictment, which includes kleptomania when the neighbors make it, he entered an emphatic protest.

"Do you ever fight?" he was asked at length.

He has not answered yet, but a smile came over his face and he twisted about for a moment, as if the memories of contests of long ago were too pleasant to be interrupted by speaking even of them.

For a secondary accomplishment, his ability to whip any one of his size is applauded by every one on the Heights. There are traditions that he conquered every one who opposed him before he fell from a fence one fatal day and was so badly hurt in the back that, as he put it while his prowess was being questioned, "I hain't never been as strong since gettin' well."