Bernal History Project
Bernal Heights is a hilltop village, tucked away in the southern part of San Francisco. Freeways and urban thoroughfares now bound a neighborhood once defined by the swamps and creeks of the original Mexican land grant. From the 1860s legend of Widow O'Brien's cow to the current fight over the preservation of the branch library's murals, residents have tirelessly guarded and recorded their environment. Bernal is diverse, vibrant, and still evolving.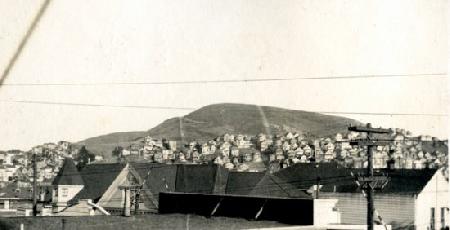 This site aims to provide a solid basis in researching the neighborhood. Browse the links, subscribe to our newsletter, and contact us if you want to know more about anything Bernal-related not shown here.
Historic Bernal News
Goat Is Key To The Situation

April 22, 1910


It Got Mixed Up with the Realty

James McGuire, who resides in the Bernal Heights district, recently sold a little piece of property to Samuel Henchen, and when the transfer was made the family goat in some way got mixed up with the wagons and implements, although it was not mentioned on the bill of sale. There was a sad time in the McGuire household when the children learned that their playfellow was gone. McGuire went to Henchen and asked for the return of the goat, but Henchen said, "No, I bought the animal and it's mine."

Mrs. McGuire then went to the Hall of Justice and asked of Deputy District Attorney Joe A. Rock, for a warrant for Henchen's arrest on a charge of grand larceny for the theft of the goat.

"The goat belongs to your husband?" asked Rock.
"It do," said Mrs. McGuire.
"And Henchen has it?"
"He has."
"It will be impossible, then, for me to do anything, because, don't you see, Henchen has your husband's goat."